Ecovative Design Collaborating with Danielle Trofe Design to Introduce Grow-It-Yourself Sustainable Lampshades Made with Mushroom® Materials
Biofabricated Lamps to be launched during NYCxDesign week at @ WantedDesign Brooklyn
Industry City, Sunset Park, Brooklyn
May 17-23, 2017
Troy, NY and Brooklyn, NY – Creative consumers committed to the environment will soon have the opportunity to brighten their home or office with a fully-grown lampshade made of sustainable materials—a lampshade they can literally grow themselves. Ecovative Design, the pioneer and world leader in the use of Mushroom® Materials to grow sustainable products for the home and office is collaborating with award winning bio-designer Danielle Trofe, creator of the MushLume Lighting Collection, to introduce these new products.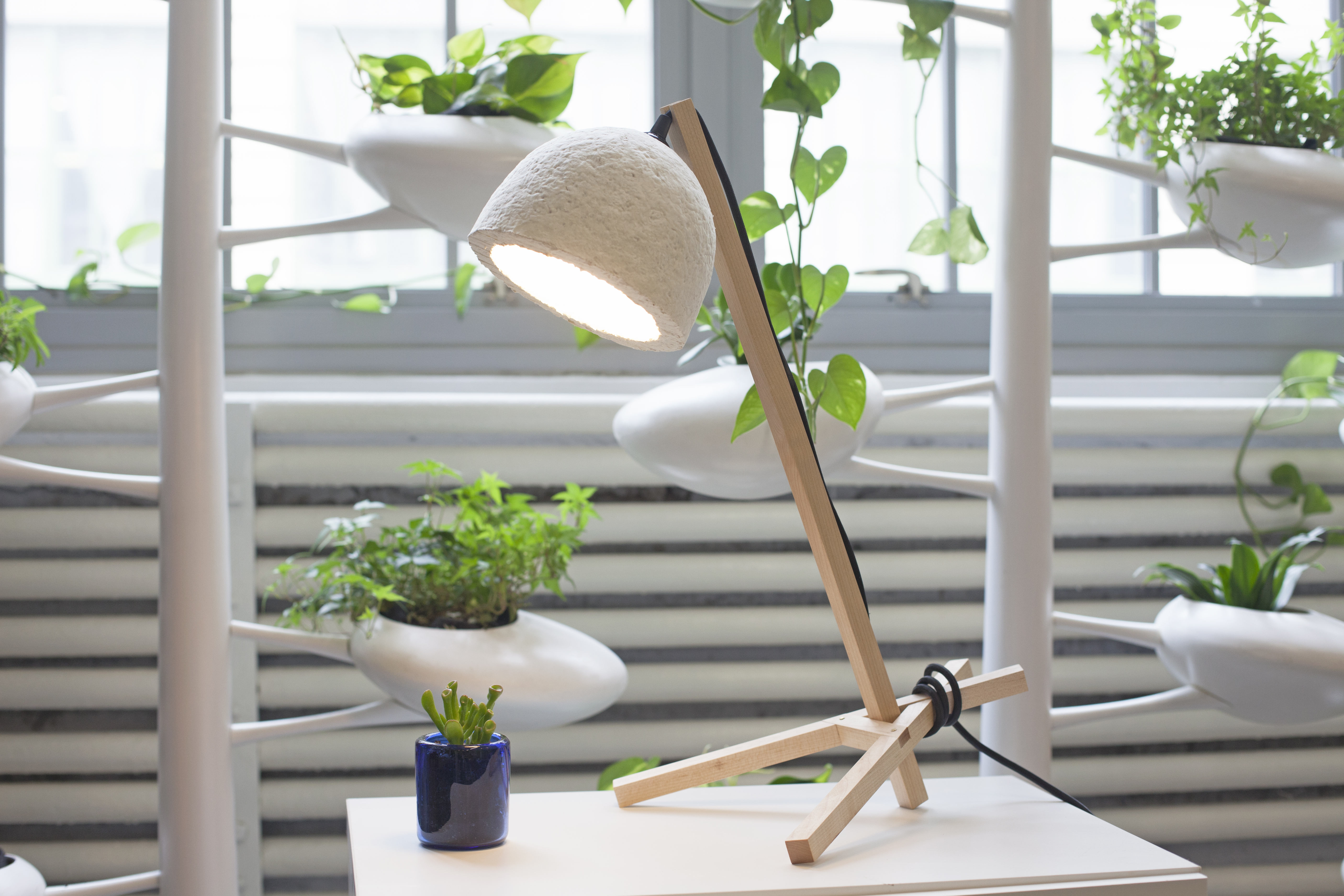 The Grow | Lamp—the first designed by Trofe for Ecovative's new Grow It Yourself product line—will be officially launched during NYCxDESIGN, 2017. These innovative lighting options will be on view at WantedDesign Brooklyn in Industry City from May 17-23, 2017, and available for sale at the event and via Ecovative's online shop beginning May 17.
"Understanding the full lifecycle of a product helps you value it differently. We are continuously exploring ways to bring our innovative material science directly to the consumer. Empowering users to be a part of the growing process creates a greater understanding and connection to the objects, and to the effect those products have on their immediate environment and on the planet," said Ecovative co-founder and CEO Eben Bayer. "Danielle Trofe's imaginative design and commitment to our materials, creates the perfect formula for this collaboration."
"The overall goal of the Grow | Lamp is to challenge and change our ideas of what interior products are made from, how they're made and ultimately where they will end up. We want to disrupt not only the way in which we manufacture goods, but how consumers participate with interior goods. Through this experiential process, the user becomes the maker, connecting with the future of how we might better fit in on this planet, by GROWING biodegradable goods. It's not just a lamp, it's the future of design and YOU get to be a part of it" said Danielle Trofe, Designer and Principal of Danielle Trofe Design.
The Grow | Lamp kit will contain a bag of Ecovative's patented mixture of Mushroom® Material composed of non-food agriculture waste and mycelium (mushroom roots), a lampshade forming tool, growing instructions and a UL certified pendant kit set. Fully-grown table lamps and pendant lamps, designed by Trofe for Ecovative's Design collection, also will be manufactured by Ecovative and available for retail sale.
Those growing their own lampshade will follow the directions, in four steps: Step One: Rehydrate, and let the material grow for three or four days. Step Two: Fill the lampshade form, then watch it grow to shape in three to four more days. Step Three: Bake the lampshade in a home oven to render the material inert. Step Four: Use the pendant kit set provided to create a pendant lamp or couple it with the tool-free assembly table stand to create a table lamp.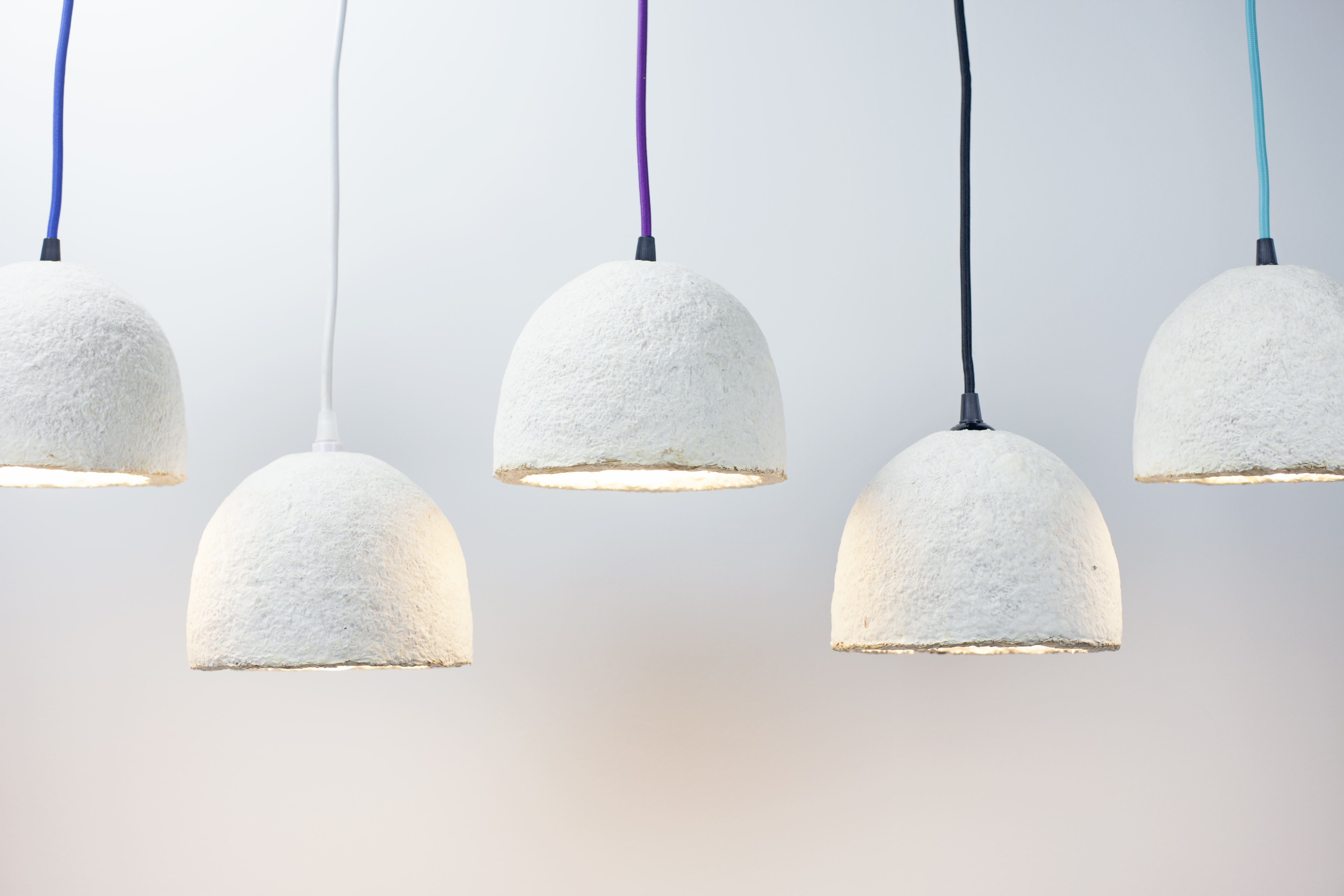 Lampshades are the latest in a series of GIY products by Ecovative. In 2006, founder Eben Bayer had the fundamental breakthrough idea that the mycelium of a mushroom can work as what they call "nature's glue" to bind agriculture salvage and/or wood products together, and he teamed up with co-founder Gavin McIntyre (now Ecovative's Chief Scientist) to turn that idea into a business. In addition to manufacturing sustainable packaging and furniture, including sustainable wall tiles, Ecovative created its GIY (Grow It Yourself) initiative. Trofe was one of the initial adopters. GIY provides designers, architects, engineers—along with college and STEM initiatives—an opportunity to work directly with the Mushroom® Materials to see how each can grow safer, more sustainable planters, products, and even their own businesses. All of these products target Ecovative's goal of growing a more sustainable, circular economy.
During WantedDesign Brooklyn, Ecovative's Chief Evangelist Jeff Betts and Danielle Trofe will host a Grow It Yourself workshop on Sunday, May 21 from 2:30 - 4 p.m. at Industry City. Participants can learn about the use of Mushroom® Materials and grow their own planters to take home. The workshop is suitable for all ages.
Mushroom Mycelium in Your Home + Grow It Yourself Workshop @ WantedDesign
Presented by Ecovative and Danielle Trofe Design
What will the future of design look like and how are biomaterials shaping our interiors? Ecovative, a leading biomaterials company growing high performance, premium, award-winning products that are grown using its Mushroom® Materials will team with Danielle Trofe, a Brooklyn-based designer, to discuss their most recent collaborative project using mushroom mycelium. Enjoy a unique conversation about how growing goods may begin to shift our future relationships with interior objects and the built environment.
Following the talk, stay for a hands-on Grow It Yourself workshop that demonstrates how Ecovative's Mushroom® Materials can be used to create objects from sustainable biomaterials. Instructions on how to create custom forms and tooling, as well as tips and tricks on how to grow a successful GIY project, will be demonstrated. Participants will be invited to create their own planters using Ecovative's GIY Mushroom® Materials. Participants can then leave with their souvenir planter and watch it grow safely at home. All ages welcome.
Event Information:
2:30 - 3:00 p.m.: Talk + Q&A

3:00 - 4:00 p.m.: Ongoing Workshop

Sunday, May 21, 2017

Open to the Public

WantedDesign Brooklyn @ Industry City

220 36th St., Brooklyn, NY

Online Registration: https://nycmushroomworkshop.eventbrite.com
About Ecovative Design
Ecovative is a leading biomaterials company growing high performance, premium, award-winning products that are safe, healthy, and certified sustainable. Ecovative's packaging, interiors products, and GIY (Grow It Yourself) Mushroom® Materials enable customers—including Fortune 500 companies—to meet their design, production, and delivery needs while achieving sustainability goals. Founded in 2007, the pioneer and world leader in mycelium-based biomaterials uses biology to grow materials with exceptional properties unattainable through conventional chemistry.
About Danielle Trofe Design
Danielle Trofe Design is a Brooklyn-based design studio that promotes a function-forward, sustainable and socially responsible approach to furniture and lighting design. By harnessing innovative technologies and material sciences to create functional and accessible design, Danielle aims to encourage a departure from conventional materials and production techniques in search of long-term, sustainable solutions.
Media inquiries: Media@ecovativedesign.com
Product inquiries: Sales@ecovativedesign.com
Written by Ecovative | Posted on 05/11/17
---